I joined the prairie women's sewing circle" at the
Fat Quarter Shop
it is basically a quilt project of the month club, and lasts for 6 months...
this is my first project.. it was supposed to only have 6 stars on it, but they included a little extra fabric :) that I was able to make it larger to fit my coffee table! I really like how it turned out.. I think I will like the club for sure!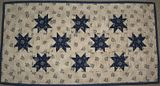 click on photo for a larger view...
Kris