this is the start of my very first Jelly roll quilt...
I have purchased many a jelly roll over the last year, simply because I might use them someday.. well I started this yesterday....
I am so pleased with how this quilt is coming along!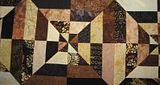 the photo shows part of the first three blocks...
Kris