Hi.. long time no post......
sorry bout that.. I have been busy sewing and quilting and stitching away for Christmas gifts this year..
i cant post many pictures, but I can share this pic..
I finished these two purses today, with accessories.. :)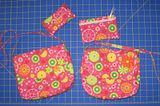 I rather like how they turned out...
Have a lovely day!
Kris