I made this little zipper bag yesterday... I think it turned out cute.. :)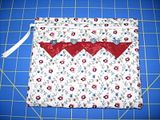 I really like this because I made the whole bag out of scraps I had on hand and buttons I found in my button drawer... pretty neat!
I actually made a tutorial of how to make these bags into a pdf... if you would like it just email and request it..
Kris