these are the first four blocks for my batik quilt...
I am taking a class for it at
The Pine Needles Sewing Center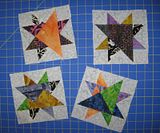 if you are in the Cedar Rapids area, there are still slots left to join in on the class....
I know I am enjoying it very much...
Kris